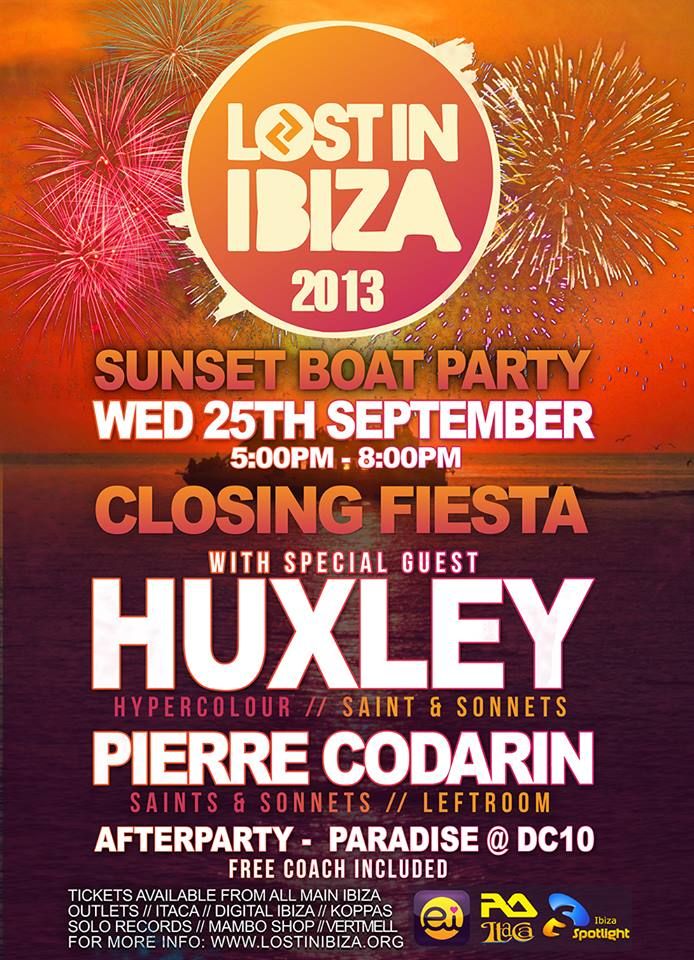 LOST IN IBIZA 2013 SUNSET BOAT PARTY CLOSING FINALE PACKS A PUNCH WITH A VERY SPECIAL DOUBLE TROUBLE PARTY PACKAGE. First course sees special guest DJ HUXLEY on board deck at Lost's closing boat fiasco, then carrying on THROUGH THE NIGHT at JAMIE JONES PARADISE, DC10 CLOSING PARTY.
Stabilize your sea legs + don your best sailors hat … anchors away as LOST smashes through the waves for one last soiree this season.
WEDNESDAY 25TH SEPTEMBER 5:00PM. All boats are rigged out in full FUNKTION ONE SOUND - cranked to the max volume.
The grand finale welcomes very special guest DJ HUXLEY (Hypercolour / Saints & Sonnets) a force to be reckoned with releases on a roster of labels (Tsuba, Morris Audio, Fear of Flying, Hypercolour and 20:20 Vision for starters). Huxley will be rocking out his trade mark sound at sea, robust, bass-led house. HUXLEY'S productions mark him out as a mega talented producer / artist touring clubs and festivals globally wowing the crowds with on-point DJ sets which span house, garage, techno and beyond. Ship ahoy punters this is gonna go off. First set stepping up the gangplank to support HUXLEY is DJ PIERRE CODARIN (Saints and Sonnets / Leftroom (aka London's Danny Quattro). Expect some serious beats onboard.
PRE-PARTY: Shake some tail feather at San Antonio promenade's most stunning beachside location, ITACA BAR 3pm – 5:00pm. Warming up proceedings Pierra Codarin, dance full throttle or enjoy a cocktail in the sunshine, cheap drink deals, Lost dancers, sea front location and free shots for all. The perfect recipe to lose your inhibitions before setting sail at 5:00pm.
BOAT PARTY: Lost In Ibiza party cruise vessel is a deluxe, double decked, 200 passenger boat / ear shattering Funktion 1 bass bins / top deck sunshine dance floor / glamorous club dancers / fully stocked bars / photographers to capture the craziest antics on the waves / two FREE glasses of SANGRIA / VODKA SHOTS for all / face & body painting (small extra charge). Docking back to shore 8:30PM San Antonio Harbour.
AFTER PARTY: Party antics power forth into the night with FREE COACHES from San Antonio to JAMIE JONE'S PARADISE CLOSING PARTY AT DC10. Buy a joint ticket 55 euros includes: Lost In Ibiza boat party + before 11:30pm entry ticket to the PARADISE closing.
PARADISE LINE UP: Jamie Jones / Art Department / Magda / Cassy / Heidi / Deetron / Roman Flugel / Digitaria / Infinity Ink / Richy Ahmed / Robert James / Russ Yallop / Mark Jenkyns
>>> SPECIAL TICKET PRICES ONLINE NOW AT IBIZA SPOTLIGHT // RA // IBIZA CLUBBING //
WWW.LOSTINIBIZA.ORG
// CLUB TICKETS <<<
OPTION 1 - 39 EURO: INCLUDES: 'LOST IN IBIZA BOAT PARTY' CLOSING FIESTA
OPTION 2 - 55 EURO INCLUDES 'LOST IN IBIZA BOAT PARTY CLOSING FIESTA + AFTERS B4 11:30 PM ENTRY TO PARADISE CLOSING, DC10.
IMPORTANT INFO FOR ONLINE CUSTOMERS
Please print online receipts. Bring to ITACA, San Antonio Promenade (next to Ibiza Rocks Bar) BETWEEN 11AM TO 4PM WEDNESDAY 25/9 to exchange for your BOAT BOARDING PASS + PARADISE ENTRY BAND. Coach departs 11PM from San Antonio.
Info or questions: Please email
info@lostinibiza.org
. A member of the Lost team will respond to you within 24 hours
WEBSITE:
WWW.LOSTINIBIZA.ORG
FOLLOW LOST ON TWITTER: @LOSTPROMOTIONS1