Not only do
Phonetic
stamp their authority as one of House Music's leading labels in Ibiza, but so too are they a resonant musical force around the world. Only likely to cement their standing on the world stage is this, their
Ibiza Night and Day 2010 Compilation
mixed by
Rob Roar
.
Despite Phonetic being responsible for more number 1 hit records in Ibiza than any other label, this is their first compilation. Now, not only will the label sound track suit many of the best dance floors on the White Isle, but most of the warm ups and back at home wind downs, too, courtesy of this double CD release.
IBIZA DAY: CD1 Pool & Sunset sounds
is the sun soaked and blissful Balearic sound track you need in your life during the summer months: sit back and let the warming sonic rays of
17 exclusive releases
- all mixed by
Leigh Devlin
- play in your ears.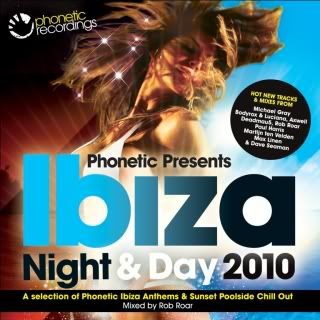 IBIZA NIGHT: CD2
, as the name suggests, switches up the mood to reflect a night at any of the Island's leading nightclubs. Mixed by label boss, hit producer, award winning A&R man and DJ at places like We Love Space, Manumission and Bora Bora, Rob Roar, this mix takes in a set of world exclusive tracks.
House music in various forms comes from scene leaders like
Axwell, Deadmau5, Bodyrox & Luciana, Michael Gray, Paul Harris (Dirty Vegas), Dave Seaman, Martijn ten Velden
, whilst some uplifting vocal splashes come from the likes of
Amanda Wilson
(Freemasons)
and
Cassandra Fox (Rui Da Silva 'Touch me').
So sharp is the track selection that these good time house gems will soundtrack the Ibizan summer and become memorable classics in the process.
The Night and Day Compilation
is another feather in Phonetic Ibiza's already impressive cap. That said, with someone as instrumental to the house scene as Rob Roar at the helm, it was never going to be anything else…
http://www.phoneticrecordings.com
IBIZA DAY - DISC 1 - POOLSIDE AND SUNSET
1. Laurels Hardlies 'Come Outside'
2. Elevator Suite 'Local DJ'
3. Cloud Electro '3rd Generation'
4. Chris McCormack 'A Safe Place'
5. Minus Blue 'Be As One'
6. The Slacksons 'So Much Better'
7. Elevator Suite 'Old New'
8. Elevator Suite 'You Don't Know Me'
9. Andy Childs & Dan Brown 'Rise Above'
10. Laurels & Hardlies 'Department Store'
11. Chris McCormack 'Waterflow'
12. Claire Schofield 'Summer Song' (Minus Blue Remix)
13. Cloud Electro 'Sure Thing'
14. Elevator Suite 'The Orchestra'
15. Minus Blue 'Sweet Harmony'
16. Ian Britt 'In the Middle'
17. Elevator Suite 'Voodoo Soul'
IBIZA NIGHT – DISC 2:
1. Paul Harris, Michael Gray, Kid Massive ft. Sam Obernik 'Home' - Championed by Pete Tong
2. Graham Sahara 'Blue Steel' (Pacha Ibiza Resident)
3. Dave Seaman & Andy Chatterley 'K Conundrum' (Daley Padley remix)
4. Max Linen 'Flashback' (Daley Padley remix) Ibiza No.1 Record
5. Rob Roar & Felix Baumgartner 'Slam 303' - Championed by Pete Tong
6. Robot man (Michael Gray) ft Nanchang Nancy 'Ready for this' (Axwell remix)
7. Ruff Loaderz & The Cut Up Boys 'Music sounds better with you' Stardust cover
8. Michael Gray, Jon Pearn, Rob Roar & Cassandra Fox (Rui da Silva 'Touch Me') 'Lights Down Low'
9. Paul Harris (Dirty Vegas), Michael Gray (Full Intention), Jon Pearn (Bodyrox) ft. Amanda Wilson (Freemasons) 'Caught Up' - No.1 DMC Buzz Chart
10. Max Linen 'The Soulshaker' (D.Ramirez 2010 Remix) Ibiza No.1 Record
11. Bodyrox & Luciana 'Shut your mouth'
12. The Slacksons 'Lose Control' (Rob Roar & Felix Baumgartner remix)
13. Paul Harris, Michael Gray, Kid Massive ft. Sam Obernik 'Home' (Michael Gray Mix)
14. Martijn ten Velden vs Red Carpet 'Together Alright' - Championed by Swedish House Mafia
15. Bodyrox & Luciana 'What Planet You On' (Deadmau5 Remix) Digital Bonus Track