Purple Inc. 4 feat.
Chris Lattner & Ilario Liburni
October 18th
Nomad Club London
9.30pm - 5am
Tickets:
http://www.residentadvisor.net/event.aspx?515742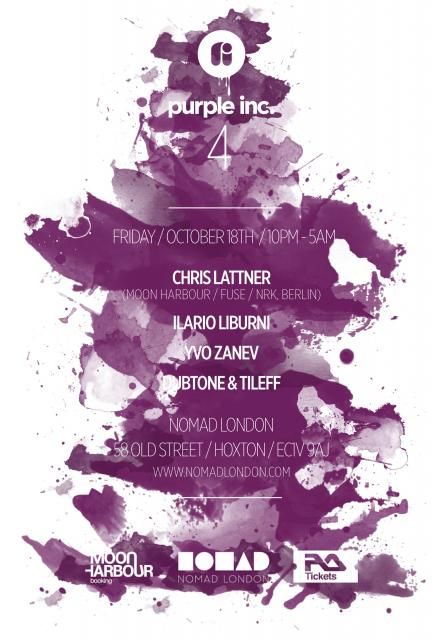 For our season 2 opening we are proud to have two very special guests joining us. From Germany, we have one of the rising stars of the industry and in demand artists of the moment:
Chris Lattner
(Fuse, Moon Harbour, NRK Berlin). Joining him will be
Ilario Liburni
(Kina Music, EarlyDub, Leone Music), an artist that is taking the industry by storm and who will be making his London Debut with us.
Full Line Up:
CHRIS LATTNER - (Moon Harbour, Fuse, NRK Berlin)
ILARIO LIBURNI - (Kina Music, EarlyDub, Leone Music)
YVO ZANEV - (Purple Inc, Alboratory)
DUBBTONE & TILEFF - (Purple Inc, Deep Tech Records)
Join us on Facebook:
https://www.facebook.com/purpleinc.productions