Slide's Halloween Disco
Saturday 26 October
10pm-5am
The Prince of Wales (Formerly Brixton Club House)
467 Brixton Road, Brixton, SW9 8 HH
£10/12.50/15 ADVANCE / MOTD
Tickets available from:
http://www.residentadvisor.net/event.aspx?510392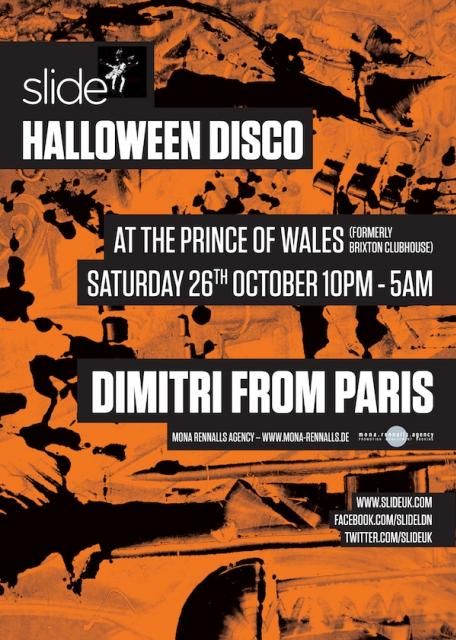 Club //
Dimitri From Paris
The Reflex. Henry Greenwood. Lloyd Wakeman
Boudoir //
Rich Smith. Le Peep. Will Forbes. Steve Robinson
After 4 fantastic parties through the summer with
A Love From Outer Space, Derrick Carter, Hot Chip & Dimitri From Paris
– we return for our first winter time party to The Prince Of Wales on
Saturday 26 October
, welcoming back to the club room for the fourth time one of our very favourite guests,
Dimitri From Paris
to headline our Halloween Disco.
As the French Ambassador of stylish club sounds, Dimitri from Paris is everything his nation could be proud of: a DJ, producer, & remixer of the highest standard, and a stylish snake-hipped pin-up with French reserve. In a nutshell, there are two distinct sides to Dimitri: a undeniable elegant and, a devoted dance music fanatic.
In 2005 the French government awarded him the very official rank of Knight of the Arts and Letters. Along with Air and Cassius he was the first artist from the Electronica field to be given such a distinction.
Dimitri has several compilations including the cult "Deluxe House of Funk" and the infamous "A Night At The Playboy Mansion" lately charted again in Mixmag's top 100 of best compilations ever.
Recently, remixes for The Rapture, Holy Ghost and Storm Queen have been well received and further are planned alongside original productions under his Erodisco guide.
This is again a rare opportunity to catch DFP in such a small space in London, we recommend early purchase, do not miss out!
Support comes from
The Reflex
, a producer that is fast becoming one of the names to watch on the remix/edit scene. Plus residents
Henry Greenwood, Lloyd Wakeman
and more across the venue.