New Year's Eve
Tuesday 31st December
9pm to 6am
Building SIX, The O2, Peninsular Square
London, SE10 OAX
Breach
Bondax (DJ Set)
T. Williams
Breakage
Kry Wolf
Eton Messy
More to be announced… VERY special headliners to come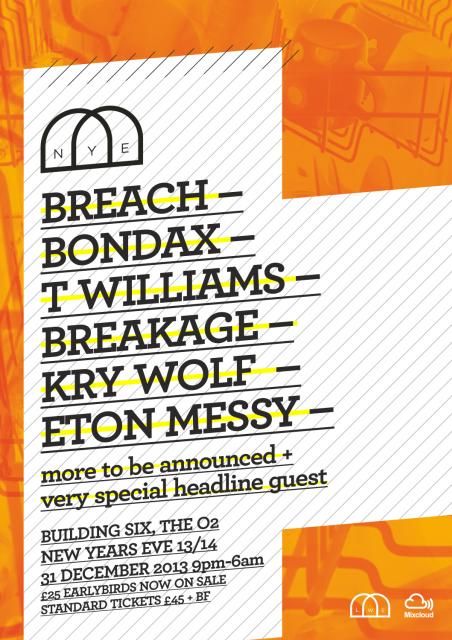 Here's a taste of what you can expect from New Year's Eve at London's
Building Six.
Accommodating 3000+ people, the venue's Body kinetic dance floor will help even those with two left feet get their groove on!
Breach
AKA Ben Westbeech, is souring high after making the track of the summer – Jack, which has been smashing up clubs and festivals for the last half of the year. Sitting firmly in the top 10 in the singles charts is testament to the musical journey that this producer has been on over the last few years. Consistently creating anthems that are built on hook-heavy beats and cleverly cut up vocals has been the key.
Joining Breach will be high flyers
Bondax
, who have made a massive impact in the last 6 months and 2014 is set to be even bigger with a support slot on London Grammar's stadium tour to kick things off. Always up for a party their DJ sets infuse everything from down tempo R&B, to house, hip hop and synth pop. With their debut live date in London selling out well in advance, there's a lot of hype around this wonder duo from Lancashire.
T Williams
is another producer that's bearing the flag for the bassier side of house music, having become a trusted voice on the airwaves through his slot on Rinse FM. He brought the true spirit of Carnival with him when he played at Red Bull's Notting Hill bash in August and we're expecting him to bring that high tempo feel with him again.
Having been one of 140 bpms original players,
Breakage
has evolved through the post-dubstep era, into an artists that's still making cutting edge bass music. Now under the caring wing of Digital Soundboy, there's few producers out there that can give us much weight to their tracks as him. You only need to glance at this man's back catalogue to see what he's about.
Add into the mix
Kry Wolf
who have been making more than a howl from the southcoast with their label's Food Music and Sounds of Sumo. 2013 saw their collaborative track Turbosteppa with Claude Von Stroke catapult them into all the right spots, and with an arsenal of heavy follow ups they are tipped to be one 2014's most exciting prospects.
The paths of sharing music are constantly evolving, as technology and listening patterns change. This has paved the way for the like of
Eton Messy
who have built up a huge audience and credible reputation through their go-to Youtube channel.
In association with Mixcloud
.
www.mixcloud.com/lwe
Advanced Tickets:
£25 - £45 + bf
www.londonwarehouseevents.co.uk
LAST ENTRY 00:45
VIP Enquiries:
vip@londonwarehouseevents.co.uk
Terms and Conditions:
http://londonwarehouseevents.co.uk/terms-conditions/