ElectronicSessions Boat Party
Tuesday 31st December
Golden Flame
Temple Pier, Victoria Embankment
London
7.45pm - 2.00am
Secure ticket Link:
www.electronicsessions.co.uk
Once again ElectronicSessions celebrate New Years Eve sailing down the River Thames! On this very special evening we host an all star line up to see in the New Year.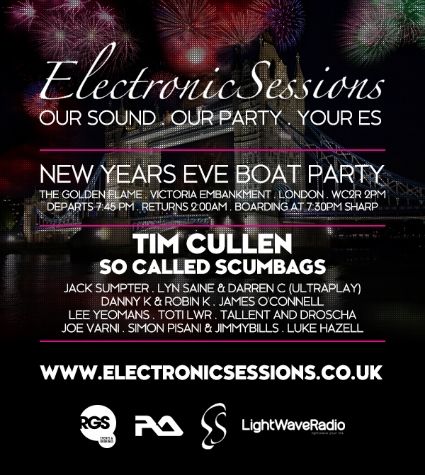 TIM CULLEN
So Called Scumbags
Jack Sumpter (ES Resident)
Lyn Saine & Darren C
Danny K & Robin K
Lee Yeomans
Toti LWR
Tallent and Droscha
Joe Varni
Simon Pisani & JimmyBills
Luke Hazell
James O'Connell
Generous drinks prices, no long queues and the best views of Europe's biggest fireworks display! We'll stop right outside the London eye whilst partying on London's leading boat party and with the amazing crowd ES are known for.
All our NYE boat parties sell out within weeks of announcement, so please don't hesitate and grab your tickets NOW!!
We promise this will be the best NYE you ever experience.
_______________________________________
After Party details also coming soon
Tickets:
www.electronicsessions.co.uk
_______________________________________
FAN PAGE
http://www.facebook.com/electronicsessions
WEBSITE
http://www.electronicsessions.co.uk/
TWITTER
www.twitter.com/@ES_London_Ibiza