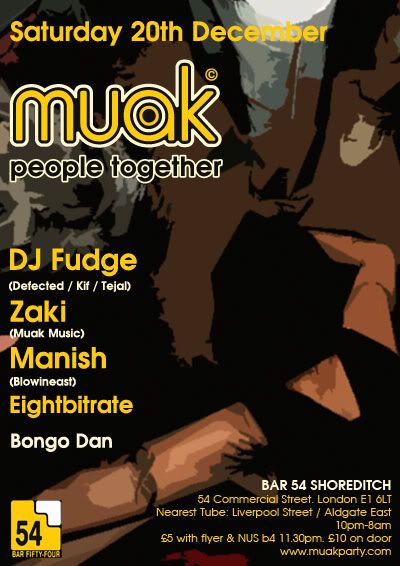 Muak Counts Down to Christmas with DJ Fudge
Saturday 20th December sees Muak (People Together) welcome DJ Fudge to perform an exclusive Christmas Party set at London's Bar 54.
Joining Fudge on the night to deliver the next instalment of real House music will be Muak founders and residents Zaki and Manish.
Fudge's passion for music started early and since he was sixteen he has been organising parties to seamless playlist of house, funk and disco sounds.
It was during this time that he decided to go one step further and learn how music was composed and in 1994, having hooked up with long-standing friend and collaborator, Bruno Banner, they created their first band 'Savannah'.
By 1999, they had become part of the highly influential wave of 'French Touch' music and launched 'Troublemen' with their first hit 'Do It'. This release was to become a dancefloor anthem and has led to more than 40 releases and collaborations with world renowned artists such as Blaze, Colonel Abrams, Michelle Weeks, Rod Chezere and Manny Hoffman.
Always on the look out for new projects, in 2004 Fudge partnered Heidi Benromdan, percussionist and founder of the label Blockheadz, to create 'Afromento', and after only two releases were already play-listed by the top DJ's with 'Human Waves' and shortly after signed to US label 'Soulfuric'.
Having now launched his own label, 'Tejal', Fudge is able to compose sounds and express himself musically without compromise.
Musician, composer, producer, arranger, remixer, Fudge is versatile and his creativity, passion for music and unrelenting dedication lead us to believe that we will continue to hear his name for a long time to come – starting at Muak.
Looking forward to the last instalment of Muak's 2008 party season, organiser Zaki Lais said: "We're counting down the days to this one and hope we can spread a bit of Christmas cheer – Muak style – with one of our best guests yet. Catch you on the dance floor."
Muak (People Together) takes place on Saturday 20th December from 10.00pm to 8.00am at Bar 54, 54 Commercial Street, London E1.
Admission is £5.00 with flyer before 11.30pm and £10.00 thereafter.
Nearest tubes: Aldgate East, Aldgate and Liverpool Street.