Change of Venue Alert ~ 718 Sessions w/ Danny Krivit! New Years Day Bash!
Happy Holidays! Please note we've changed venues for our annual New Years Day Celebration.
On Thursday, Jan. 1st we will now be at Santos Partyhouse for our annual, not to be missed New Year's Day Celebration!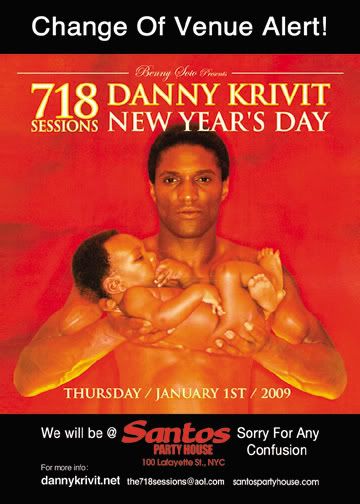 Thursday, January 1st, 2009
Benny Soto Presents
718 Sessions New Years Day Bash!
Music by
DANNY KRIVIT
The Vibe Starts @ 6pm Til 12 Midnight-ish,
Amazingly Still Only $5 Bucks!!! (For The First 100 People Before 7PM)
After 7PM, $12 With Membership Or Flyer, $20 Without
THE PARTY REALLY DOESN'T GET STARTED UNTIL YOU GET THERE, SO PLEASE, GET THERE EARLY!!!
SANTOS 100 Lafayette St. NYC
http://www.santospartyhouse.com